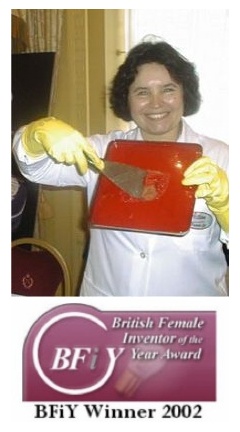 Action Products Limited manufactures and distributes a range of efficient and completely Safer* chemical gel paint, varnish, graffiti and Artex removers.

The company was established by Mrs Ithiel Mogridge who strongly believes in creating products that work as well as well-known high street alternatives but don't harm the user or their working area.

Ithiel witnessed first-hand the dangers of toxic paint strippers in her role as an industrial chemist at one of the country's largest manufacturers. She used the tools and research facilities at her disposal to develop effective alternatives.

The completely non-toxic Safer* Paint & Varnish Remover was Action Products' Female Inventor of the Year award in 2002.

This was followed by a water-based Artex removing gel, which gained Ithiel praise as runner-up in the category in 2003.

To this day, Action Products is committed to developing capable products which are, first and foremost, Safer*, environmentally friendly and non-corrosive. Designed to be kind, the full range poses no danger to the user and is Safer* around even children and pets.

Action Products Ltd is approved by Business Link to supply Product Development Services.
Supplier ID 30002509

All ingredients conform to Guidance for Responsible Public Procurement of Cleaning Products Handbook SEC(2004) 1050.